Call us now:
+86 371 5512-9198
Press Section For Kraft Paper Machine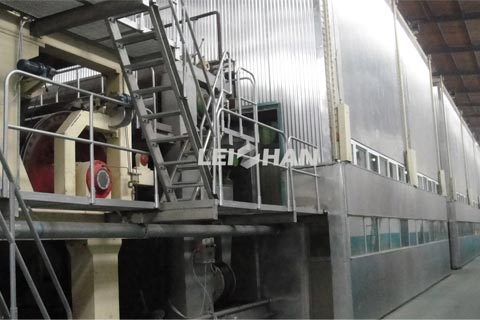 Press Section includes First press, second press, third press and fourth pressure. The first press is vacuum press with vacuum suction roll which equipped with one rubber coated metal roller, one vacuum press roll; The second and third press are all MG press; The fourth press is glossy press which equipped with one stone roller and one rubber covered metal roller. These four press is pressurized by the hydraulic cylinder pressure.
The Function of Press Section
1. Dehumidify the paper sheet as much as possible by means of mechanical pressure.
2. Reduce steam consumption in drying section.
3. Increase the binding force of fibers in the paper sheet, and improve the tightness and strength of the paper sheet.
4. Transfer the wet paper sheet from the net part to the drying cylinder part to dry.
5. Eliminate the web marks on the sheet, improve the smoothness of the sheet and reduce the duality of the sheet.
leizhan, a company specialized in making paper machine and pulp machine, can supply you whole line paper machine for paper mill. If you need, free to contact us for details.
Email: leizhanpapermachine@gmail.com</p