Call us now:
+86 371 5512-9198
Three Layer Kraft Board Paper Machine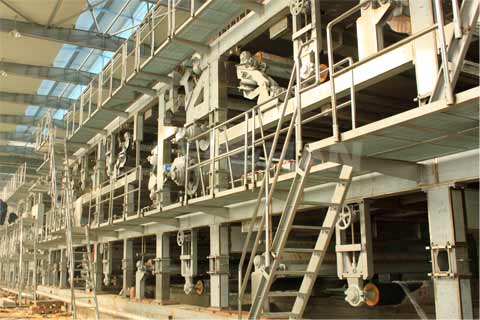 Triple wire board machine is mainly used for making kraft paper and liner board. The paper machine is mainly divided into the following parts: headbox, fourdrinier section, press section, drying section, oblique surface sizing machine, calendering section, and reeling section. Main structures of kraft board paper machine as below.
Main Structure of Kraft Board Paper Machine
Headbox: Three sets of air-cushion headboxes, corresponding to the top layer, core layer net and bottom layer net respectively. By controlling the gas pressure in the headbox, the sizing pressure head of the slurry on the net can be controlled and stabilized.
Wire section: three wire, respectively surface layer wire, core layer wire, bottom layer wire, main components: breast roll, forming plate, dewatering plate, vacuum box, composite roll, vacuum couch roll, drive screen roll, guide wire Rolls and racks etc. The top layer mesh, the core layer mesh and the bottom layer mesh are each equipped with a forming mesh.
Press section: divided into first press, second press, third press, and fourth press. The pressurization method is corrugated pneumatic tire pressurization.
Drying section: Φ1500/Φ1800 drying cylinder, group transmission, equipped with guide roller and drying net. Comes with a closed gas hood.
Reeling section: Pneumatic horizontal winder.
Unit kraft testliner paper making line machine can be provided by our company and offer turnkey project. Welcome to contact us for more details. Email address: leizhanpapermachine@gmail.com.