Call us now:
+86 371 5512-9198
Pulping Line Pressure Screen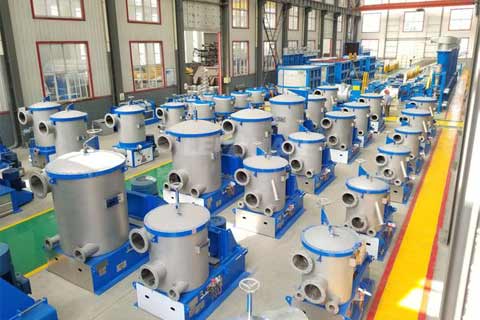 Middle consistency pressure screen is used for coarse and fine screening of various waste paper pulp. Slurry enters the pressure screen along the tangential direction with a certain pressure. Since a certain pressure difference is maintained inside and outside the screen basket, and when the rotor rotates, the gap between the inner side of the rotor and the inner surface of the screen basket changes continuously.
Pressure screens are divided into inflow screens and outflow screens according to the direction of the slurry in the screen. According to the shape of the pressure screen basket, pressure screens can be divided into hole screens and slot screens. Slotted sieves can be further divided into smooth flat slit sieves and corrugated slit sieves. Today, the most widely used is the pressure screen of the corrugated sieve sieve plate.
We can offer many types of pressure screens for waste paper recycling line, such as middle consistency coarse screen and fine screen, fractionating screen and inflow pressure screen. If you want to know more details, please feel free to contact us. Email address: leizhanpapermachine@gmail.com.