Call us now:
+86 371 5512-9198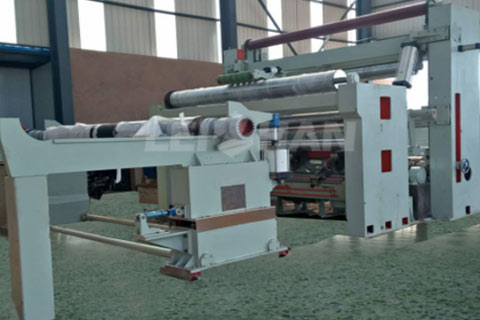 This paper machine rewinder is used to cut the initial weight of 70-150g/m² paper rolls on a paper machine, and rewind them into finished paper rolls that meet the requirements for width and tightness. During the rewinding process, it can also remove poor quality paper and bond broken ends.
Woking Principle of Paper Machine Rewinder
Remove the roll paper from the paper rolling machine of the paper machine and place it on the unwinding rack. The unwinding rack is equipped with an AC generator and photoelectric encoder to quickly transmit data to the PLC. The PLC intelligent control program accurately adjusts the movements of each transmission to ensure constant tension of the paper web; The paper web is stretched along the guide roller by the paper roll on the unwinding rack, and then led out to the longitudinal cutting mechanism for longitudinal cutting. Then, it is stretched by the arc roller, and then wound by the lower paper transfer mechanism to the supporting roller and wrapped on the paper core cylinder. The paper core cylinder rotates by the drive of two supporting rollers, which drives the entire paper page forward and rewinds into several qualified roll finished paper.
High efficiency paper machine rewinder for sale. Welcome to contact us for more details. Email address: leizhanpapermachine@gmail.com.