Call us now:
+86 371 5512-9198
Complete Set of 500,000 Tons Annual Output Recycled Fiber Pulp Equipment Successfully Identified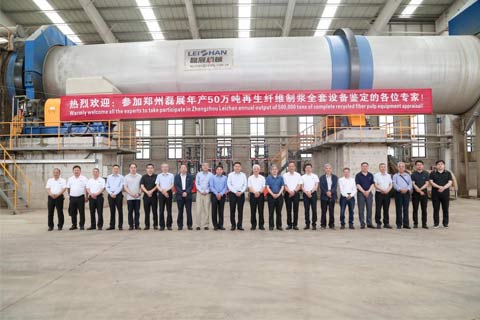 The annual production of 500,000 tons of recycled fiber pulping equipment appraisal meeting was successfully held in Leizhan Company. Waste paper pulping has never been so highly concerned by the paper industry. The production capacity of a complete set of waste paper pulping equipment has been increased to 500,000 tons per year, creating a new record in the industry. Many well-known experts in the domestic pulp and paper industry gathered in Leizhan Company to participate in the grand event and talk about the utilization of recycled fiber and new pulping technologies.
The appraisal meeting discussed topics such as the comprehensive utilization of recycled fibers, the innovation of Leizhan equipment research and development, and the breakthrough application of the industry. It highly affirmed the major technological breakthroughs made by Zhengzhou Leizhan Technology Paper Machinery Co., Ltd. in the recycled fiber pulping project.
At the site of the Dongmiao Paper Project, experts believe that the complete set of recycled fiber pulping equipment can effectively improve the quality of waste paper shredding, reduce fiber loss, and reduce raw material costs. It has innovative and leading significance for the realization of green and efficient use of fiber resources.
Leizhan Company is a domestic first-class pulp and paper equipment manufacturing company integrating R&D, manufacturing and sales. Adhering to the development concept of precision manufacturing, energy saving and high efficiency, it actively develops more energy-saving and advanced equipment and improves the process flow. The successful appraisal of this scientific and technological achievement has created a new height in the innovation and development of China's recycled fiber utilization technology. Leizhan will continue to carry forward the spirit of hard work, innovate, create more benefits for customers, and create more wealth for the society. Email address: leizhanpapermachine@gmail.com.