Call us now:
+86 371 5512-9198
Recycling Line For Egg Tray Making Machine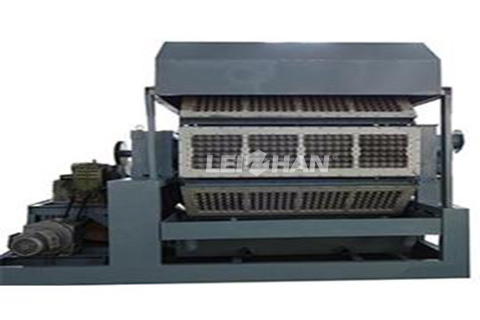 Egg tray generally refers to the packaging tools used to hold eggs, its main function is to shock absorption, easy to transport and carry. This machine is used waste paper as a raw material, and is composed of pulping system, forming system and drying system. Leizhan can provide a complete egg tray production line.
Egg Tray Making Process
1. Pulping the waste paper (waste paper. book, newspaper, etc.) into paper pulp with specialized pulper.
2. Removing heavy impurities of paper pulp
3. Coarse screening of paper pulp
4. Conveying the prepared pulp to paper pulp molding machine, and the pulp is adsorbed on the pulp forming mold by vacuum suction, drying or air drying after vacuum dewatering and forming.
Egg Tray Making Machine
Raw Material: Waste Paper
Output: 1000pcs/h
Power: 28kw
Our company Leizhan is a professional manufacturer of pulp and paper making machine. We can offer the whole paper making line, include paper pulping making line and paper machine. If you want to know more about our paper making equipment, you can contact us.
Email: leizhanpapermachine@gmail.com