Call us now:
+86 371 5512-9198
Tissue Paper Processing Line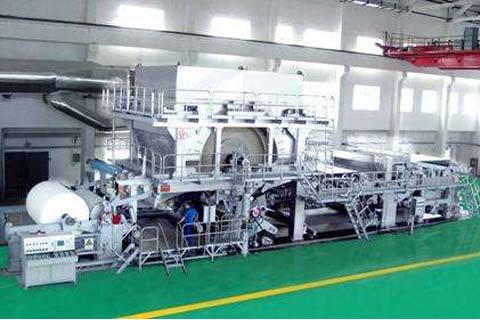 The pulp in the pulp chest is sent into the high box of the tissue paper machine through the sizing pump to stabilize the sizing pressure. Before the pulp enters the high-level box, it passes through a thick adjustment to stabilize the sizing concentration. After the pulp is stabilized by the high level box, it flows to the inlet of the fan pump by itself. Before the pulp flows to the inlet of the fan pump, it passes through a quantitative control to stabilize the sizing flow and control the paper basis weight.
After the pulp is diluted and mixed by the fan pump, it enters the inflow pressure screen, reduces the pulse and removes foreign impurities, and then enters the headbox.
The wire pulp is sprayed from the lip of the headbox with a consistency of 0.15~0.25%, and after being centrifugally dehydrated by the forming roll, it leaves the wire part with a dryness of 20~22% and is brought into the vacuum support roll through the felt, and is dehydrated by vacuum pressing. , and then enter the dryer cylinder with a dryness of 38~40% to dry. After the paper sheet is dried, it is wrinkled by a doctor blade, and then leaves the dryer cylinder and enters the reeling part.
Leizhan offer all tissue paper processing line machine, and offer pulping equipment for waste paper recycling machine for making packaging paper or culture paper. If you have any needs about paper procesing line, please contact us for more details. Email address: leizhanpapermachine@gmail.com.