Call us now:
+86 371 5512-9198
ZSK series Vibrating Screen Pulp Machine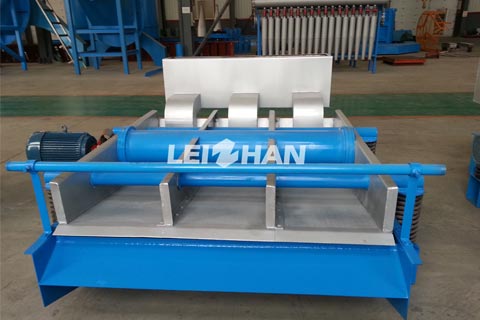 ZSK series Vibrating Screen, mainly used for removing various impurities in pulp suspension. Here are the work principle and main parameters of Vibrating Screen.
After a large number of crushed materials with different particle sizes and mixed coarseness enter the screen surface, only part of the particles contact the screen surface. Because of the vibration of the screen box, the material layer on the screen is loosened, which further enlarges the gap existing in the large particles, and the small particles pass through the gap and transfer to the lower layer or the conveyor. Because the gap between small particles is small, large particles can not pass through, so the original disorderly arrangement of particles has been separated, that is, according to the size of the particles were stratified, forming the arrangement rules of small particles in the lower, coarse particles in the upper. Fine particles arriving at the screen surface, less than the sieve hole through the screen, and ultimately achieve the separation of coarse and fine particles, complete the screening process.
Main Parameters of Vibrating Screen
Screen Area: 1-3 m²
Product Capacity of Hole Screen: 7.5-75 t/d
Product Capacity of Slot Screen: 3.5-25 t/d
Input Pulp Concentration of Hole Screen: 1.0-1.5 %
Input Pulp Concentration of Slot Screen: 1.0-1.5 %
Motor Power: 2.2-4 kw
leizhan supply advanced Vibrating Screen with cheap price and good performance. If you need Vibrating Screen, welcome to contact us for more details.
Email: leizhanpapermachine@gmail.com