Call us now:
+86 371 5512-9198
Vacuum Stock Washer For Paper Mill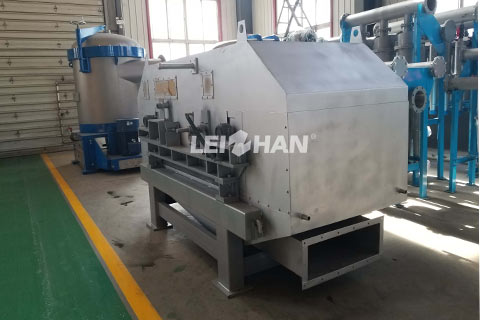 Vacuum Stock Washer is a common pulp washing equipment, suitable for wood pulp, straw pulp and other pulps. It is the key technology equipment for papermaking industry to solve waste water pollution.
It is mainly composed of drum, groove body, plane distribution valve, washing device, pulp stripping device, net washing device, transmission device, and screw conveyor. It can be used in single or in series. The whole drum surface of the washer drum is divided into several compartments. Each compartment is connected with the corresponding compartment of the end face of the valve seat through the filter runner. The valve core divides the whole end face into vacuum area, slurry stripping area and exhaust area. The drum rotates in the groove containing slurry. Each outlet passes through the vacuum filter area, the stripping area and the exhaust area one after another. Because of the vacuum suction, the liquid in the slurry is removed from the filter channel and the distribution valve. The slurry is adsorbed on the surface of the drum body and stripped off by the scraper to achieve the suction, stripping and exhaust of the slurry.
Leizhan company has many years of experience in producing pulp and paper machine. If you need any paper machine or Stock Washer, free to consult us for more details.
Email: flutingpapermachine@gmail.com