Call us now:
+86 371 5512-9198
Papermaking Machine For Waste Paper Recycled Line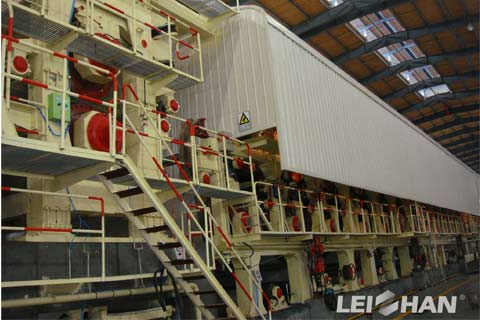 It is a complete set of equipment to make pulp form paper sheet, including Headbox, Wire part, Press part, Dryer, Calender, Rewinder, main engine and auxiliary system such as steam, water, vacuum, lubrication, heat recovery, etc.
Headbox is a device that conveys the appropriate concentration of slurry evenly and steadily to the wire. It is also called Wire-front box. After the slurry is sprayed from the Headbox to the copper net, the wet paper sheet is formed and dehydrated on the wire.After being extruded, the wet board water pipe network is extruded mechanically to improve the drying of the paper and improve the drying of the board at the same time. Surface properties, eliminating imprints, increasing smoothness, tightness and strength; then drying further dehydration, making paper shrinkage, fiber tightly bonded, strength increased. And compactness of the paper can be improved by calendering the paper with a Calender, so that the thickness of the paper is consistent and the air permeability can be reduced. Finally, the paper was wound into paper rolls, and the main process of paper making was completed.
leizhan is specializing Pulping and Paper making Machine, and we have a very professional engineer team to help you design your papermaking line according production, capacity, work speed, etc. Welcome to contact us for more benefits and quotation.
Email: leizhanpapermachine@gmail.com