Call us now:
+86 371 5512-9198
Paper Machine For Waste Paper Recycled Process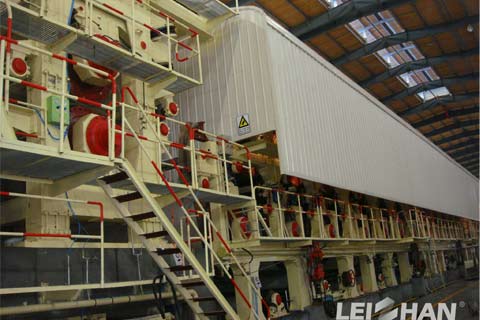 Paper Machine is a complete set of pulp forming equipment, which integrates Headbox, Wire Section, Press Section, Drying cadre, Calender, Rewinder, main engine of transmission department and auxiliary systems such as steam, water, vacuum, lubrication and heat recovery.
Paper Machine configuration requires that a number of dryers driven by gears or wool cloth be grouped into a group, and a number of dryers form a Drying Section. The linear speed of each group of dryers can be adjusted separately to maintain a small speed difference between each group of dryers to compensate for the shrinkage of paper sheets during drying. The dryness of the paper out of the drying section is generally about 92-94%. At the end of the drying part, a cold cylinder is usually equipped so that water and gas can condense on the surface of the cold cylinder. Condensate can wet the surface of paper sheet to get better smoothness in finishing. The best drying cylinder diameter is 1.5m. Single-sided gloss paper can be obtained by using large diameter dryer with high hardness and high gloss. The diameter of large diameter dryer is generally 3-7.5m.
leizhan is specilizing in Pulping and Paper making Machine with more than thirty years, so we can provide you more advanced and high-quality machine. Contact us for more benefits and quotation.
Email: leizhanpapermachine@gmail.com