Call us now:
+86 371 5512-9198
Low Density Cleaner used in Stock Preparation Line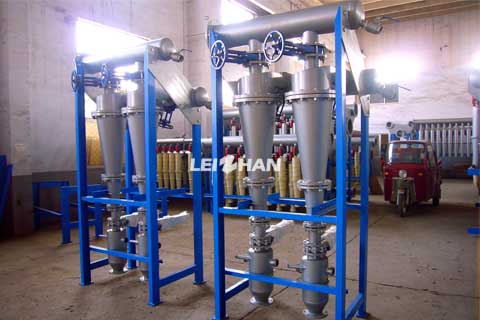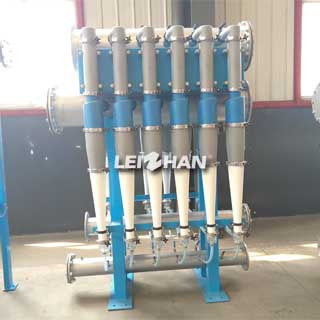 Low Density Cleaner can be used to purify the raw fiber pulp and waste paper pulp. Heavy impurities with a relative density greater than that of the fiber in the slurry can be removed. It can effectively remove metal impurities, sand, stone, mud, glass fragments in the pulp; exfoliation of equipment, pipes and tanks; unvaporized wood chips, grass joints, fiber bundles in the slurry; undissolved pulp, block and other impurities.
Main Technical Datas:
Rate Passing Capacity of Single Equipment(l/min): 400 – 1500
Pressure of Inflow Pressure(mpa): 0.2 – 0.4
Inlet Consistency(%): 0.3 – 1.5
Diameter of Deslagging Outlet(mm): 4 – 18
Accepts Pressure(mpa): 0.06 ~ 0.15
Pressure Drop(mpa): 0.15 ~ 0.2mpa
Volume Deslagging Rate: 8 ~ 12%
Solid Content Deslagging Rate: 18 ~ 20%
Low Density Cleaner can be supplied in a combined unit or in a single unit. The assembly material includes stainless steel and carbon steel. The complete supply scope includes: low density cleaner, frame, inlet main pipe and branch pipe, accepts main pipe and branch pipe, connecting pipe fittings, valves, pressure gauges, etc. Our company is dedicated to customer service, free technical consultation, process design reference scheme, equipment selection, installation guidance and debugging and other technical services.
Leizhan will also provide you with a series of pre-sales and after-sales services to you. Welcome to consult us if you have interest in our products:
Email: flutingpapermachine@gmail.com