Call us now:
+86 371 5512-9198
Kraft Packing Paper Production Project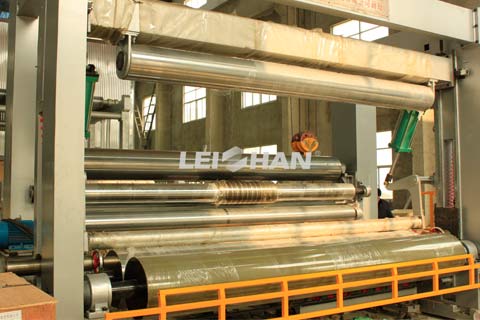 Kraft paper is a tough water-resistant packaging paper, brown and yellow. It is widely used in making paper bags, envelopes, workbooks, record sets, files and sandpaper. Quantitative range is from 80g/m2 to 120g/m2. The main quality requirements are flexible and strong, high burst resistance, can withstand greater tension and pressure without breaking. Kraft paper is mainly used for wrapping paper, envelopes, paper bags and printing machine drum lining. Our company supply the whole Kraft Paper Production Line, including LOCC Stock preparation system, Stock preparation system, Papermaking Machine.
LOCC Stock Preparation System
This system consists of Chain Conveyor , D Type Hydrapulper, High Density Cleaner, Mid Consistency Pressure Screen, Reject Separator , Mid Density Cleaner, Fiber Separator , Low Density Cleaner.
Stock Preparation System
Stock preparation system includes Mid Density Cleaner, Double Disc Refiner,Inflow Pressure Screen ,Square Pulp Chest Agitator.
Papermaking Machine
Paper machine consists of wet part and cadre part. Wet part includes headbox, wire part and press part, and cadre includes drying part, calender part and roller part.
For more than thirty years,We take the market as the guidance,Professional engaged in the development complete sets waste paper pulp and paper production equipment. Our Products are sold well in more than 20 provinces, municipalities and autonomous regions, bring huge economic benefits for papermaking enterprises,Our products enjoy a good reputation in the papermaking enterprises.Contact us for more quotation and drawing.
Email: leizhanpapermachine@gmail.com