Call us now:
+86 371 5512-9198
Influence Factors of Paper Calendering Process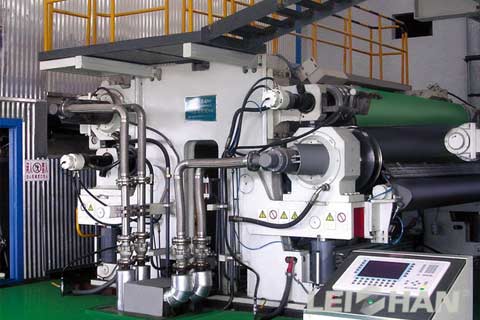 Calendering is a process in which paper or cardboard containing certain moisture is processed by a Calender to improve the smoothness and gloss of the paper and to control the thickness of the paper or cardboard to a certain extent.
Work Speed Of Calender
Generally, the calendering effect will decrease with the increase of work speed. This is because the paper also has the same properties as the so-called viscoelastic material such as asphalt, that is, under the action of force, the longer the action time, the softer and more easily deformed it appears, the shorter the action time, the harder and more elastic it appears. When the speed is high, the paper passes through the pressing area instantaneously, so it is hard and elastic, and the calendering effect is reduced.
Moisture Content Of Paper
When the moisture content of paper increases, the plasticity will be enhanced, which is beneficial to calendering. But when the moisture content is too high, it will be compressed too closely, which will greatly increase the transparency and make the paper look darker, that is to say, there will be blackening phenomenon. Therefore, the water content is generally controlled at 6-8%.
Temperature In Press zone
The higher the temperature of pressing zone is, the more favorable the plastic deformation of paper sheet is, so it is beneficial to improve the calendering effect. Practice has proved that at higher temperature, better calendering effect can be obtained under lower line pressure and less times of passing through the pressure zone. This can greatly reduce the side effects of mechanical press, such as paper strength reduction.
Leizhan company has many years of experience in producing pulp and paper machine. If you need Calender or any paper machine, welcome to contact us for more details.
Email: leizhanpapermachine@gmail.com