Call us now:
+86 371 5512-9198
D Type Continuous Pulping System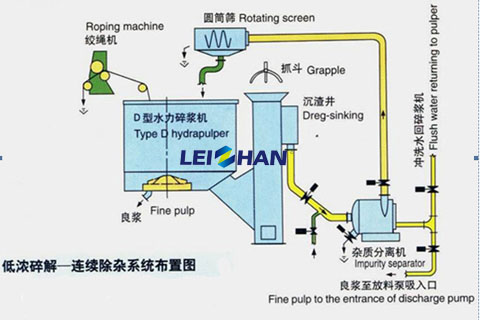 D type continuous pulping system is mainly used for the disintegration of waste paper raw materials which are difficult to be broken due to the high content of impurities, such as LOCC and AOCC. The system allows the plastic, styrene foam and other light and heavy impurities in the slurry to be removed from the pulper tank before it passes through the screen plate of pulper without being disintegrated or after disintegrated. Furthermore, D type continuous pulping system can reduce the content of impurities that in the tank of the pulper, the continuous pulping can be guaranteed, and the production capacity can be improved.
D type continuous pulping system are mainly consist of D Type Hydrapulper, Sediment Well, Hydrapurger, Drum Screen, Ragger, Rope Cutter and Grapple an so on.
■ D Type Hydrapulper and Sediment Well are the main part of D type continuous pulping system
■ The Hydrapurger periodically discharges impurities from the Hydrapulper.
■ The Drum Screen mainly used for the dehydration and removal of impurities which are cleaned by the Hydrapurger.
■ The Ragger is used to remove large winding impurities in the D Type Hydrapulper
■ The Rope Cutter is used to cut off the entanglement from the Ragger for easy transportation.
■ The Grapple is mainly used to grab and discharge the heavy impurities in the sediment well.
Zhengzhou Leizhan Technology Paper Machinery Co., Ltd is a professional manufacturer and specialized in making all kinds of pulping equipment for D type continuous pulping system, we are also the screening equipment supplier and we can provide you with competitive price and good quality. Welcome to contact us if you need any pulping machine.
Email: leizhanpapermachine@gmail.com