Call us now:
+86 371 5512-9198
Chain Conveyor for Conveying various Waste Paper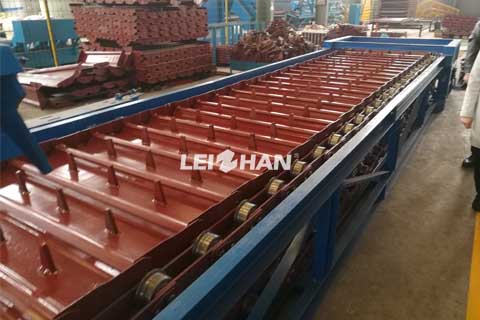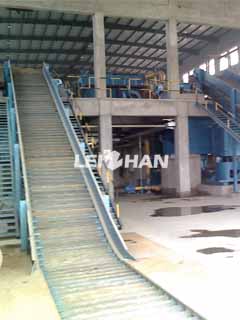 Chain conveyor is especially suitable for transporting loose material into a pulper, such as waste paper(loose or in bales) or chemical pulp. As to the design, there exist different basic dimensions and parameters and it can be adjusted to particular projects. Waste paper (loose or in bales) and chemical pulp are loaded in a hopper, then raw materials are conveyed by means of a conveying chain or a conveying band to its discharging point where falling into a pulper chest.
Depending on the terrain or production needs, paper mills may have some complex working conditions. This requires high flexibility of paper machinery. So, the chain conveyor can conveying waste paper materials in a horizontal direction or inclined direction. In addition to this advantage, it has the following characteristics:
1.Trough plate punch forming which high strength and excellent in crushing effect.
2.Chain board adopts closed design to prevent material leaking.
3.Two rows of idler traction chain and hollow roller shaft,and oil can be injected from pin roll to shaft sleeve and wear-resistant zinc-copper bushing.
4.Two rows of chain adopt long axis to prevent chain running deviation.
5.Chain wheel adopts cast steel to improve wear-resistant.
6.Raw material feeding plate adopts V design( more than effective conveying width 400mm) to improve raw material throughput.
7.Orbit type running,operate steadily and reliably, with low friction and low power consumption.
Leizhan can also provide a set of equipment for the next pulping process. If you have any interest on our product, welcome to contact us by e-mail: leizhanpapermachine@gmail.com