Call us now:
+86 371 5512-9198
2300mm Calender for Paper Machine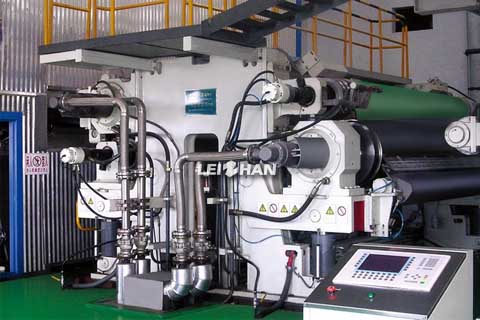 Calender is the important equipment for paper machine finishing end. The smoothness, glossiness and tightness of the sheet are improved by pressing the sheet. The transverse thickness difference and the difference between the two sides of paper are improved.
The machine is a general calendering machine with three rolls and two pressing zones. The middle roll is drive roll with the upper and lower two pressure mechanisms, so that the adjustment of line pressure is more flexible. At the same time, it can also be used as a calender with two rolls one pressing area (Top roller lifting is not needed).
Main Technical Data:
Basis Weight: 80-200g/m²
Trimmed Width: 1400mm
Gauge: 2300mm
Max Working Speed: 200m/min
Max Line Pressure: 60KN/m
Lifting Way: Pneumatic
Pressurization Way: Pneumatic(upper and lower two pressure mechanisms)
Control Way: Centralized Control of Valve Box
Lubrication: Concentrated Lubrication with Thin Oil
Drive Way: Frequency Control
2300mm Calender with high efficient, good performance, high quality products, stable work condition and perfect pre-sale and after-sale service, we have won lots customers from all over the world. Cooperate with us is your wise choice. Welcome you to come and visit! If you have any need, please feel free to contact us.
Email: flutingpapermachine@gmail.com