Call us now:
+86 371 5512-9198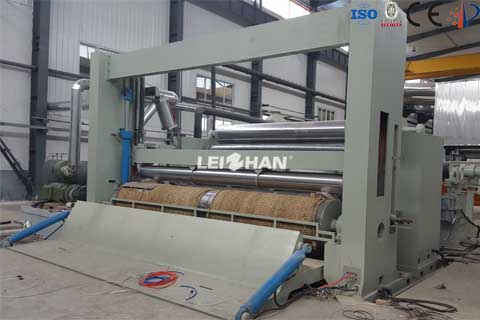 5500mm Overfeed Rewinder can longitudinally cut the paper roll with a quantity of 100-180g/㎡ which is initially rolled up on the paper machine. Then the paper is re-wound into a finished paper roll that meets the requirements for both width and tightness.
Technical Features:
Paper Type: Kraft Liner Board
Quantitative Range: 100-180g/㎡
Trimmed Width: 5500mm
Pickup Way: Overfeed
Pickup Speed: 25m/min
Working Speed: 1500m/min
Max Diameter of Paper Roll: 3000mm
Max Diameter of Finished Paper Roll: 1500mm
Motor: Z4-250-21 185KW, 440V, 1500r/min(2 pieces), Z4-355-32 250KW, 440V,400/1500r/min(1 piece)
Leizhan company can offer you the whole components for 5500mm Overfeed Rewinder. Such as, loading rack, longitudinal cutting device, roll device, pneumatic control system.
If you have any need, please feel free to contact us. Welcome you to come and visit! Welcome to contact us for more details about the machine. Email: flutingpapermachine@gmail.com