Call us now:
+86 371 5512-9198
5500 High Speed Tissue Paper Machine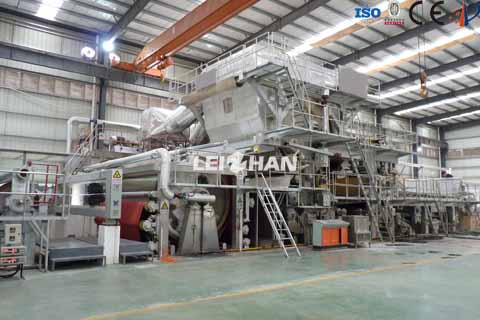 Toilet paper is an essential daily paper for people. 5500 High Speed Tissue Paper Machine can suit for various raw material, such as cotton pulp, reed pulp, bagasse pulp, wheat straw pulp, wood pulp and waste paper pulp.
Machine Parameters:
Main Product: Tissue Paper
Trimmed Width: 5500 mm
Base Width: 14 ~ 28 g/㎡
Design Speed: 2200 m/min
Maximum Speed: 2000 m/min
Working Speed: 1600 m/min
Production Capacity: 180 t/d
Max Paper Roll Diameter: 3000 mm
Yankee Cylinder Diameter: 5480 mm
Steam Pressure: 800 kPa
Various pulping equipment for the stock production line of 5500 mm tissue paper machine:
Pulping: Chain Conveyor, Bale Breaker, Drum Pulper, D Type Hydrapulper and High Concentration Hydrapulper and so on.
Screening: Middle Concentration Pressure Screen, Drum Screen, Vibrating Screen, Inflow Pressure Screen and so on.
Refining: Double Disc Refiner, Conical Refiner, Fiber Deflaker.
If you have any need, please feel free to contact us. Welcome you to come and visit! Welcome to contact us for more details about the machine. Email: flutingpapermachine@gmail.com