Call us now:
+86 371 5512-9198
3750mm Cultural Paper Machine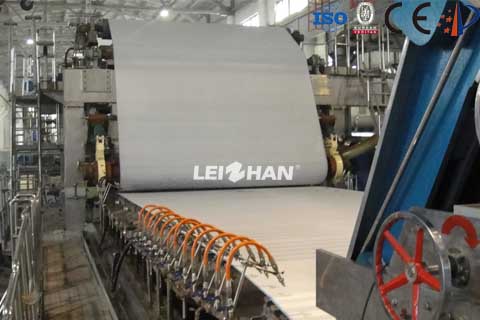 3750mm cultural paper machine has a strong representative for it's widest paper web, fastest speed, high configuration of the whole machine. This paper machine adopts some imported key parts, and the main equipment is supported by the domestic. This mode not only reduces the equipment purchase cost of customers, but also ensures the advanced design and manufacturing of paper machine.
Main Technical Parameters:
Main Product: High-grade Culture Paper
Basic Weight: 40-80g/㎡
Production Capacity: 255t/d
Trimmed Width: 3750mm
Roll Paper Width: 2800mm
Working Speed: 1000m/min
Designed Speed: 1100m/min
Transmission Way: Ac frequency conversion control, sectional drive
Pulp Ratio: 40% Straw Pulp, 30% Chemi-mechanical Pulp, 30% Wood Pulp
3700 cultural paper machine is consist of headbox, wire section, press section, drying section, sizing machine, calender section, paper machine.
If you have any need, please feel free to contact us. Welcome you to come and visit! Leave your contact ways or contact us by following ways for more corporation:
Email: flutingpapermachine@gmail.com