Call us now:
+86 371 5512-9198
Envipro Paper Indonesia Exhibition 2019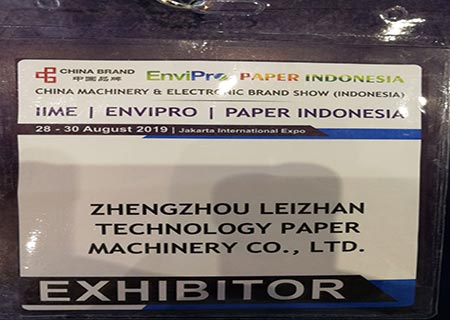 Envipro Paper Indonesia Exhibition is scheduled in 28-30 August 2019 at Jakarta International Expo, Indonesia. The exhibition mainly exhibited pulp manufacturing machinery equipment and accessories, paper machinery equipment, carton machinery equipment, sapre parts, auxiliary equipment and instrumentation, dewatering, pressing equipment, pumps, valves, pipes and new papermaking equipment, paper-making energy-saving technology and equipment, and corrugated equipment, packaging paper equipment, handling and packaging machinery and equipment.
Envipro Paper Indonesia Exhibition 2019 is currently the only paper professional exhibition in Indonesia. The exhibition has received strong support from the pulp and paper associations from Indonesia, China, Thailand, Vietnam, etc. The participation and promotion of the association will effectively expand the influence of the exhibition. The exhibition attracted more professional visitors.
Leizhan will participate in this exhibition, Envipro Paper Indonesia Exhibition 2019. As a professional manufacturer of pulp and paper equipment, we will show high quality production. Welcome everyone to visit the exhibition.
Exhibition Information Of Envipro Paper Indonesia Exhibition
Exhibition time: 28-30 August 2019
Booth Number: B321
Location: Jakarta International Expo
Leizhan is a professional manufacturer of pulping & paper making equipments. If you are interested in any of our products, please feel free to contact us for further details.
Email: leizhanpapermachine@gmail.com