Call us now:
+86 371 5512-9198
Shangdong Double Disc Refiner Use site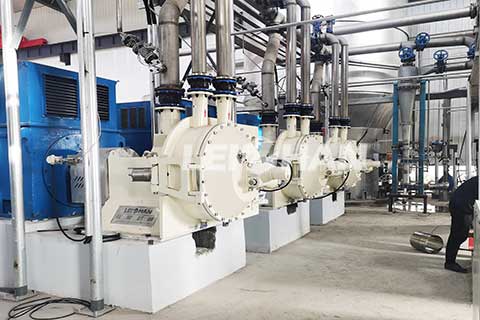 Shandong customer bought RF Double Disc Refiner from our company. Now the refiner has started to work, and customers have reported that the use effect is good.
Our company is a professional manufacturer of paper pulping equipment. If you want to know more about pulping, welcome contact us.
RF Double Disc Refiner
Double Disc Refiner is mainly used for pulping, improving slurry beating degree to meet the paper making needs. And it is suitable for 3-6% consistency's chemical pulp, waste paper pulp and other pulp's continuous beating, which is an ideal pulping equipment at present.
Double Disc Refiner adopts constant power control system, the beating effect is stable. And it has accurate retract mechanism, easy to control.
Our company Leizhan is the Chinese advanced Leader & Manufacturer, specializing in Pulp & Paper industry, if you want to know more about our paper making equipment, you can send email to us.
Email: leizhanpapermachine@gmail.com