Call us now:
+86 371 5512-9198
The Wire Section Of Kraft Paper Machine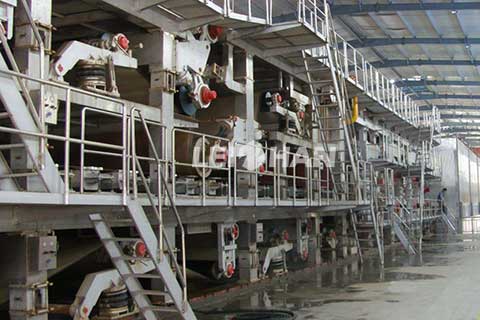 The wire section is mainly used to remove the water from the pulp. It undertakes most of the dewatering tasks. In addition, it also has a certain disturbance to the pulp and at the same time makes the paper sheet well formed. It consists of the top wire and the bottom wire, the purpose is to remove the moisture in the paper sheet to both sides of the paper sheet, thereby reducing the two-sidedness of the paper sheet.
The wire section has main components include forming plate, dewatering plate, vacuum chopping board box, upper suction box, loading table and pre-loading table, vacuum suction box, roll, breast roller guide roller and doctor, mesh drive roller, water needle and high pressure water spray water, etc.
Forming plate: It slow down the dehydration, improve the forming of the paper, and at the same time prevent the wire from being bent by a large impact.
Doctor: clean the roller surface, scrape off moisture and debris.
Dewatering board: Dewatering is based on the generation of vacuum in the wedge row area in contact with the web, and scraped off by the sharp corner of the next dewatering board. The arrangement of the dewatering board can improve paper formation. The dehydration board is an indispensable dehydration element on paper machines.
Vacuum dehydration plate: further dehydration by low vacuum.
Top wire: the function is to dehydrate the top surface, reduce the difference between the two sides, and improve the dewatering capacity of the wire.
Loading table and pre-loading table: generating pressure pulse, forced dehydration.
Vacuum suction box: forced dehydration with the help of vacuum.
Waterline: the dividing line between pulp and paper, generally located between the top and bottom wires.
Mudguard: prevent the slurry from spreading to both sides.
Cutting edge water needle: adjust the width of the press to make the paper tidy, which determines the ultra-wide width of the finished paper.
Fixed side water needle: adjust the width of the pulp on the mesh surface and the quantitative on both sides.
Roller: used to dehydrate and drive the wire.
Wire drive roller: used to drive wire.
High-pressure water: used to clean the wire.
Our company Leizhan is a professional manufacturer of pulp and paper making machine for 40 years. We can offer the whole paper making line, and spare part. If you have any question or you want to know more about our production, welcome to contact us.
Email: leizhanpapermachine@gmail.com