Call us now:
+86 371 5512-9198
High Density Sand Remover In Paper Machine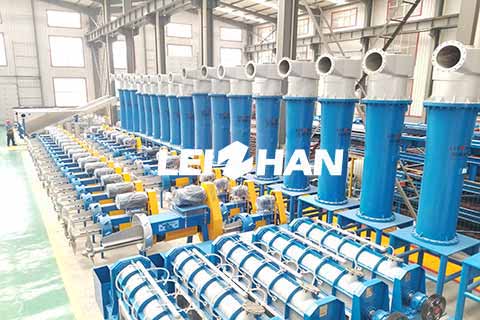 High density sand remover in paper machine mainly applied to remove all kinds of heavy impurities in paper pulp.Volute pulp inflow chamber, the eddy ability is strong and low pressure area subarea is obvious. This makes accepts and impurities separate thoroughly.
High Density Sand Remover, wear resistance ceramics cone, long service life. Specially designed long cone has small taper angle and fine cleaning efficiency. Equipment with PLC control cabinet,convenient and easy to control,sufficiently discharge impurities.
The pulp should only through the machine once, without tail pulp processing equipment, fiber loss is zero, cone is wearable, long life, no rotate, do not need motivation. Installed it in the slurry transport process can be achieve the effect of deslagging.
Leizhan is a professional manufacturer of pulping & paper making equipment. If you are interested in any of our products, please feel free to contact us for further details.
Email: leizhanpapermachine@gmail.com