Call us now:
+86 371 5512-9198
4600mm Paper Machine Rewinder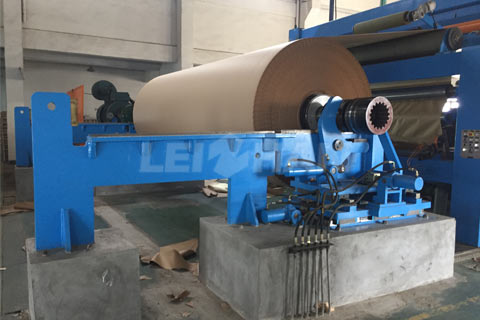 4600mm paper machine rewinder consists of a paper stand device, a slitting device, a frame, a transmission device, a back-up roller device, a roll paper tightening device, a paper pressing roller device, a paper pushing roller device, an arc roller and a paper transfer device, an air-liquid Control system, unloading table device, electrical control system, safety door device, electrical control, paper cutting device and other parts. 4600mm paper machine rewinder is double bottom roll rewinder and suits for paper machine. Main Data of paper machine rewinder as below.
Main Technical Data of 4600mm Paper Machine Rewinder
Product variety: kraft paper, T paper, corrugated paper
Paper weight: 80-220 g/㎡ (assessment 112g/m2)
Working speed: 2000m/min
Design speed: 2200m/min
Finished paper maximum diameter: φ1500mm
Maximum number of slitting: 4 rolls (5 sets of slitting knives)
The maximum running tension of the paper web: 1200N/m
Speed up and down time of rewinder: 60-90S
Paper break stop time: 30S
The 4600mm paper machine rewinder adopts a modular design, which makes the rewinding process easy to observe and easy to operate. Want to know more about paper machine rewinder, please feel free to contact us. Email address: leizhanpapermachine@gmail.com.