Call us now:
+86 371 5512-9198
100T Kraft Liner Paper Making Machine Line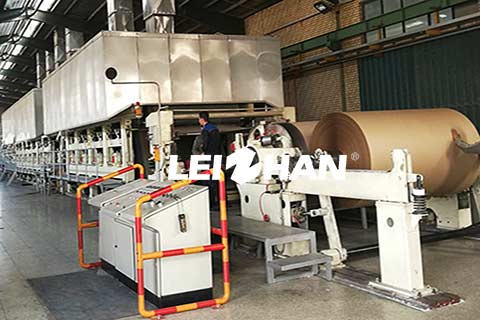 Nowadays, Kraft liner paper as packaging is becoming more and more common in the market. Whether it is express packages for online shopping or some product packaging, many are in kraft paper packaging.
Kraft liner paper making machine line is used waste paper to make Kraft liner paper. It is light weight and cheap, easy to transport and store, which reduces costs indirectly.
100T Kraft Liner Paper Pulp Making Line
Waste Paper — Pulper — High Density Cleaner — Pressure Screen — Light Impurity Separator — Reject Separator — Low Density Cleaner — Fine Screen — Refiner — Agitator
100T Kraft Liner Paper Making Machine Line
Paper Grade: Kraft Liner, Testliner, Corrugated Paper
Trimmed Width: 1880mm
Basis Weight Range: 160-180g/m2
Design Speed: 250-500m/min
Production Capacity: 100t/d
Dryness:
After wire section: ≥18-21%
After press section: ≥38-42%
Paper product dryness: 90%-92%
Finished product ratio: 96%
Our company can offer the whole paper making line, include paper pulping making line and paper machine. And we can supply kind of paper machine spare part. If you want to know more about our paper making equipment, you can contact us.
Email: leizhanpapermachine@gmail.com