Call us now:
+86 371 5512-9198
Paper Pulp Chest Agitator For Paper Mill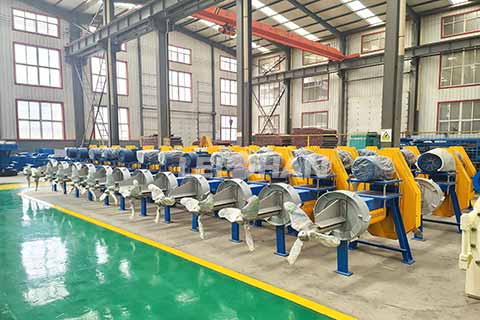 Paper pulp chest agitator for paper mill can be used as a pulp chest for circulating stirring to keep the pulp in suspension, ensure that the components of the paper are evenly distributed in the pulp, and are also conducive to the full reaction of the liquid medicine.
The impeller structure of the agitator is advanced, the angle of the blade is adjustable, and the operation and maintenance are convenient. It is suitable for mixing longer fiber pulp.
Advantages Of Paper Pulp Chest Agitator
1. Cantilever structure, simple structure, stable and reliable operation, convenient installation and maintenance.
2. The blade placement angle can be adjusted according to the pulp concentration, pulp chest structure or mixing requirements, etc. to meet different usage needs.
3. It is supported by double-row spherical roller bearings with inner taper sleeves and horizontally open type bearing seats. It has the characteristics of strong carrying capacity, convenient disassembly and maintenance, etc.
Leizhan is a professional manufacturer of pulping & paper making equipment. If you are interested in any of our products, please feel free to contact us for further details.
Email: leizhanpapermachine@gmail.com