Call us now:
+86 371 5512-9198
High Speed Paper Rewinder Machine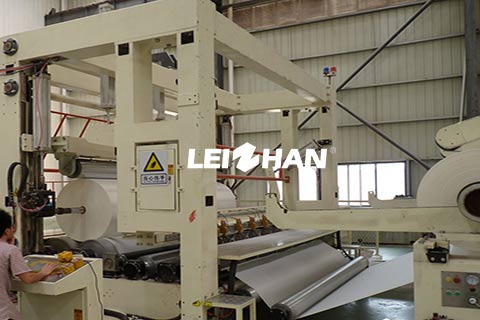 High speed paper rewinder machinee is mainly based on a stitching device. During the unwinding of the paper, after rolling up the new finished logs, the paper surface is stopped and torn apart, allowing the unloaded logs to be unloaded and loaded with new paper cores for winding.
Generally, high speed paper rewinder machine includes a drive unit to be wound on the paper surface, and an electric winding unit for winding the paper surface supplied by the drive unit on the tubular winding core downstream according to the advancing direction of the paper surface to form a Paper roll of the expected size.
Main Specification Of High Speed Paper Rewinder Machine
Trimmed Width: 1575-6000mm
Max Working Speed: 1500m/min
Diameter of the Support Roll: φ500mm
Motor: 18.5KW
Our company Leizhan is a professional manufacturer of pulp and paper making machine for 40 years. We can offer the whole paper making line, include paper pulping making line and paper machine. And we can supply kind of paper machine spare part. If you want to know more about our paper making equipment, you can contact us.
Email: leizhanpapermachine@gmail.com