Call us now:
+86 371 5512-9198
Paper Recycling Machine Egg Tray Making Machine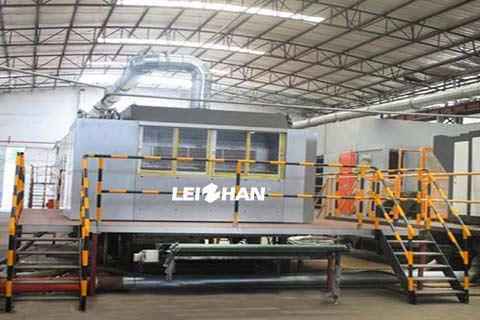 Paper recycling machine egg tray making machine can use waste paper to produce egg tray. Its good quality, high output, low energy-consuming and low maintenance.
Paper recycling machine egg tray making machine has four parts :Pulping system, forming system, drying line and packing part
Pulping system is mainly comprised of hydrapulper, screening equipment, refiner machine, pulp pump, control cabinet, etc.
Forming system is the egg tray forming machine. We could produce the forming mould and transferring mould based on our customers request.
Drying section is the very important in the all of line. When the egg tray be made over by the forming machine, the egg tray will be put on the drying section, it will be acrossed the drying channel, then can get the dry tray.
Packing machine: when we get the finished egg tray from the drying section, we can packing them.
Paper Recycling Machine Egg Tray Making Machine
Raw Material: Waste Paper
Output: 1000pcs/h
Power: 28kw
Our company Leizhan is a professional manufacturer of pulp and paper making machine for 40 years. We can offer the whole paper making line, include paper pulping making line and paper machine. And we can supply kind of paper machine spare part. If you want to know more about our paper making equipment, you can contact us.
Email: leizhanpapermachine@gmail.com