Call us now:
+86 371 5512-9198
Paper Pulp Light Impurity Separator Machine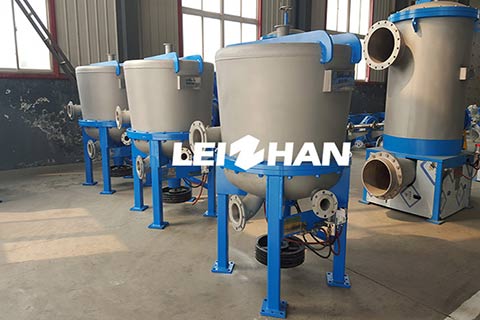 Paper pulp light impurity separator machine is an advanced coarse screening processing equipment. It is mainly used to treat light impurities and tailings in the coarse screening section of the waste paper pulping production line.
Paper pulp light impurity separator machine has the functions of gathering light impurities, decomposing the pulp, and collecting and removing heavy impurities in the pulp.
Light impurity separator adopts the up-flow pulp feeding method, and uses the high-speed rotation of the rotor to generate a strong vortex in the shell. Light impurities gather in the center of the vortex and are discharged from the center of the top of the shell. Fiber bundles and pulp masses are at the bottom of the rotor and the sieve plate The time is further deflated, and the accept pulp is discharged from the accept pulp pipe through the sieve plate. Heavy impurities are deposited in the sediment ditch outside the sieve plate and discharged through the sediment tank.
Our company Leizhan is the Chinese advanced Leader & Manufacturer, specializing in Pulp & Paper industry, if you want to know more about our paper making equipment, you can send email to us.
Email: leizhanpapermachine@gmail.com