Call us now:
+86 371 5512-9198
Paper Making Line Pulp Vibrating Screen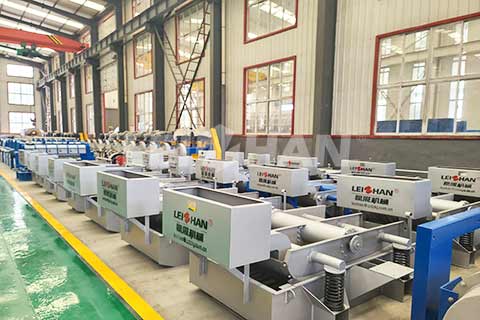 Paper Making line pulp Vibrating Screen is mainly used for the coarse screening stage of the pulp line, and it is used to screen various light impurities in the pulp suspension.
Vibrating Screen has reasonable design, strong screening ability, and has the self-cleaning effect. It is a more advanced screening machine. Vibrating Screen has a large screening area and strong screening capacity. And the screen area is equipped with a water spraying device, which is conducive to fibrous recycling. And it is equipped with feeding dilution stabilization box, and the concentration flow of the inlet inlet is stable.
Leizhan is a professional manufacturer of waste pulping machine and paper making machine. If you are interested in our machine, welcome contact us for more details.
Email: leizhanpapermachine@gmail.com