Call us now:
+86 371 5512-9198
How to control the paper weight during the manufacturing process?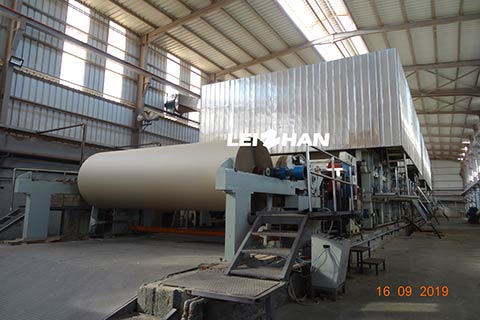 Under the condition of a certain width, a certain speed and a certain quantity, the paper machine can adjust and control the opening of the quantitative valve on the outlet pipe of the sizing pump from the pulp pool in front of the sizing pump, so as to achieve the purpose of adjusting and controlling the pulp flow at the entrance of the grouting pump.
On the condition that the pulp concentration is stable, adjusting and controlling the flow rate means adjusting and controlling the amount of dry pulp sent to the inlet of the pulp pump per unit time. The paper making width is constant, the speed is constant, and the quantitative ratio is constant. In this case, it is equivalent to controlling the basis weight of the paper machine.
Our company Leizhan is the Chinese advanced Leader & Manufacturer, specializing in Pulp & Paper industry. We company can offer the whole paper making line for paper mill. If you have any question or want to know more about our paper making equipment, you can send email to us.
Email: leizhanpapermachine@gmail.com
Our Sales Service
Offering comprehensive technical and business consultation services.
Proposing the most suitable scheme and equipment for our clients.
Designing and fabricating targeted products according to the special requirements of clients.
Assisting our clients for foundation construction of equipment.
Dispatching engineers to install and debug equipment.
Regularly visit clients to solve production problems.