Call us now:
+86 371 5512-9198
Pulping Equipment High Density Cleaner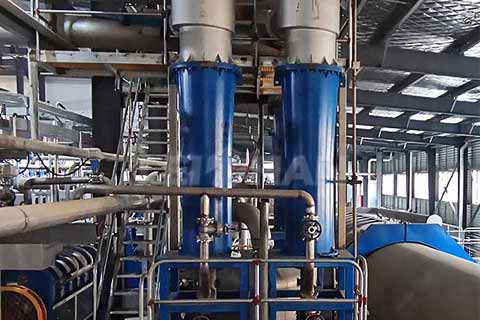 High density cleaner is applied to remove all kinds of heavy impurities in paper pulp, like staples, stones, glasses, etc. Volute pulp inflow chamber, the eddy ability is strong and low pressure area subarea is obvious. This makes accepts and impurities separate thoroughly. High density cleaner suitable for all waste paper recycling lines.
Main Advantages of High Density Cleaner
1. It can effectively remove sand, stone, metal, glass and other heavy impurities, and reduce subsequent equipment wear;
2. The tee is made of 304 stainless steel, and the cone is made of thickened and wear-resistant alumina ceramics, which has a long service life;
3. The equipment is divided into two types: manual slag discharge and automatic slag discharge;
4. Control the interlocking system to prevent fiber loss.
Except for this cleaner, we can also supply high density cleaner for wood pulp lines. Welcome to contact us for more details. Email address: leizhanpapermachine@gmail.com.