Call us now:
+86 371 5512-9198
Paper Pulp Washer In Paper Recycling Line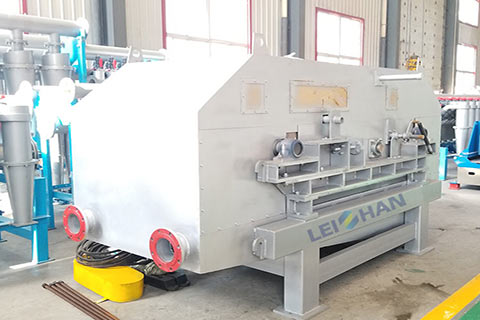 Paper pulp waste in paper recycling line is mainly used for washing and recycling deinked pulp, which can reduce the ink ions and ash content in the pulp, can improve the softness of the paper, improve the physical strength of the paper, and high freeness can improve the retention rate and increase the paper making speed of the paper machine.
Features Of Paper Pulp Washer Machine
1. Removing ink particles, filler and other smaill impurities.
2. Less occupied area, large producion capacity, low power consumption.
3. High efficiency of impurity prolapse, high efficiency dewatering, very clean after wash the pulp.
4. Adopting fully enclosed structure, stainless steel shell.
We have more than 40 years experience in manufacturing pulp equipment. The quality of our equipment has stood the test and we are in a leading position in China. If you are want to know more about our equipment, you can send email to us.
Email: leizhanpapermachine@gmail.com