Call us now:
+86 371 5512-9198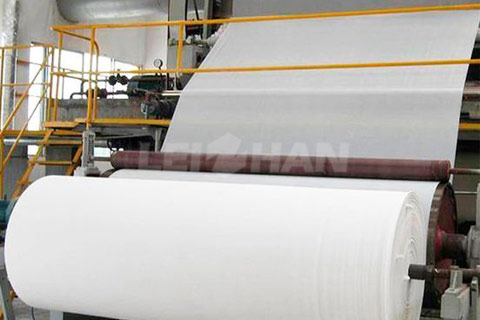 Toilet paper is one of the indispensable paper types in everyone's life. In order to make toilet paper soft, mechanical methods are usually used to wrinkle the paper to increase the softness of the toilet paper. There are many raw materials for making toilet paper, and natural and non-polluting raw materials such as cotton pulp, wood pulp, bamboo pulp, and straw pulp are commonly used. Leizhan offer all kinds of raw materials pulp making line machine.
Technical Requirements of Toilet Paper Machine
1. Raw Material: cotton pulp, wood pulp, bamboo pulp, straw pulp
2. Paper Type: toilet paper, tissue paper
3. Trimmed Width: 2880mm
4. Basis Weight: 13-30g/㎡
5. Rail Distance: 3800mm
6. Capacity: 5t/d
7. Working Speed: 150-170m/min
8. Design Speed: 180m/min
Do you want to set toilet paper mill? Welcome to contact us for more details about small capacity toilet paper machine. Email address: leizhanpapermachine@gmail.com.