Call us now:
+86 371 5512-9198
Paper Pulp Dewatering Machinery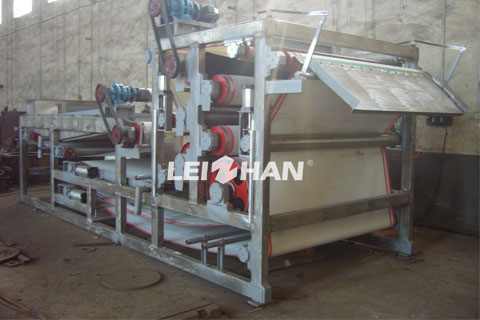 Paper pulp dewatering machine is suitable for the sludge dewatering process of wastewater treatment in urban sewage treatment plant, paper industry and environmental protection engineering.
Technical Features of Paper Pulp Dewatering Machine:
● Paper pulp dewatering Machine equipped with gravity dewatering area, in this area, the free water can be removed, the fluidity of sludge can be reduced, and the binding force between flocs and particles can be enhanced.
● Special wedge-shaped prepressing dewatering zone. After the sludge is dewatered by gravity, its fluidity almost completely vanish. Free water and moisture in the flocs are substantially removed.
● Cyclotron dewatering zone. Through the change of the diameter of the cyclotron roll, the tension of the mesh belt is gradually increased to form a progressive dehydration.
● Shear dewatering zone. It is located between the upper and lower symmetrical filter belts. This area is produced by the tensile force of the filter belt and the roll body in different rotation directions.
Paper pulp dewatering machine is widely used for solid-liquid separation in various industries. For more details about the machie, please click Sludge Dewatering Machine. Heartily welcome to contact us if you have interest in our products:
Email: flutingpapermachine@gmail.com