Call us now:
+86 371 5512-9198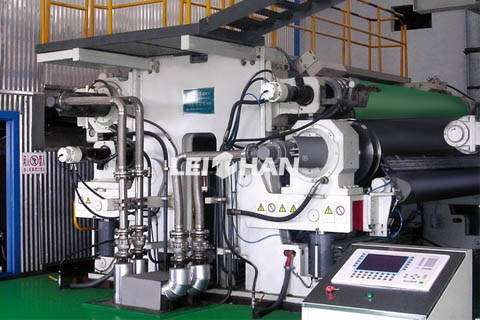 Paper calender machine is a new type of calendering equipment that use the elastic press zone to calendering. It is a finishing equipment that widely used in paper machines and coated paper machines. The width of the soft roller pressure area is up to 5-10mm, which is 5-8 times of that of the general calender.
Paper Calender Machine Advantages:
● Wide pressure area, less pressure on the paper, the paper density is uniform, full-width smoothness and gloss are consistent, small difference on both sides, good ink absorption, strong printability;
● Paper calender machine can replace the general calender to install in the paper machine before reeling, so that the paper to obtain a higher performance;
● Wide application range, suitable for coated and uncoated paper;
● With self-protection function, various protective measures can effectively avoid the damage of equipment caused by abnormal production or wrong operation, so that the maintenance costs can be saved.
If you need paper calender machine, please feel free to contact us. Welcome you to come and visit! Welcome to contact us for more details about the machine. Email: flutingpapermachine@gmail.com