Call us now:
+86 371 5512-9198
Maintenance Tips For Corrugated Paper Machine Roll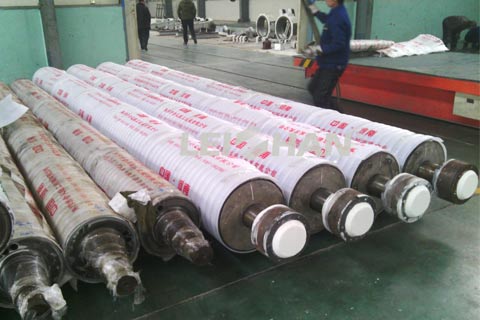 Corrugated Paper Machine Roll, as an important spare parts in paper machine, effect the service life and operation speed of paper machine.Therefore, it is of significance to learn how to maintain Corrugated Paper Machine Roll.
Before use, check the parallelism and tightening of corrugated rolls, and adjust the pressure between rolls. When using, we should pay attention to lubricating the corrugated rolls adequately. Spraying a small amount of oil mist or anti-friction agent on the surface of corrugated rolls in production will reduce the wear between corrugated rolls and prevent the occurrence of corrugated paper cracking and foaming.lean the matching pressure and roll surface after use. Do not rinse the high temperature roll surface with water, otherwise it will deform the roll and accelerate wear and tear. Corrugated rolls can normally produce about 20 million meters of corrugated paperboard. If 50,000 meters of corrugated paperboard are produced every day, it will be grinded and repaired in about a year. After grinding, the diameter of corrugated rollers will be reduced by about 1.0 mm, the coefficient of corrugation will increase, and the amount of base paper and adhesives will also increase.
leizhan can supply good Corrugated Paper Machine Roll an dall kinds of paper machine. If you need paper machine, free to contact us for more benefits and quotation.
Email: leizhanpapermachine@gmail.com