Call us now:
+86 371 5512-9198
Coarse Cleaning Equipment——Ragger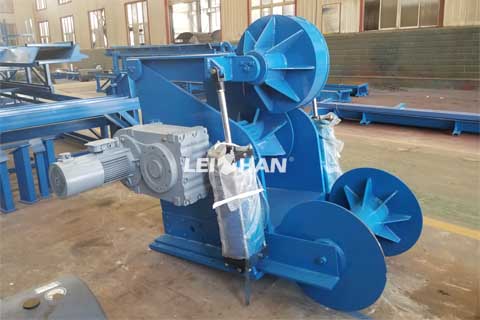 When chain conveyor conveying various kinds of pulp board, waste paper in bulk and in bundle into the D type hydrapulper, there exist different kinds of twisting impurities in slurry like iron wire, string, plastic, cotton yarn, etc. Leizhan company has developed a device for removing these impurities. That is ZTS Series ragger. When ragger is working, there is a rope from the ragger hang to the hydrapulper. The twisting impurities can wrap around the rope. So, the impurities can be collected and discharged.
Features of ZTS Series Ragger:
Low energy consumption. The motor power only have 4kw, which is a low cost for your factory.
Pinch roller of ragger is controlled by air cylinder, which can make sure the rope is pulled out with constant speed.
High cleaning efficiency. Motor directly connect with reducer. The stable operation and smooth running guarantee the deslagging efficiency.
ZTS Series Ragger is match with the D Type Hydrapulper. Leizhan Technology Paper Machinery Co., Ltd can produce these two machine with superior quality, good performance, high efficient and competitive price. If you have any interest on our product, welcome to contact us by e-mail: leizhanpapermachine@gmail.com