Call us now:
+86 371 5512-9198
Bale Breaking Dry Screening System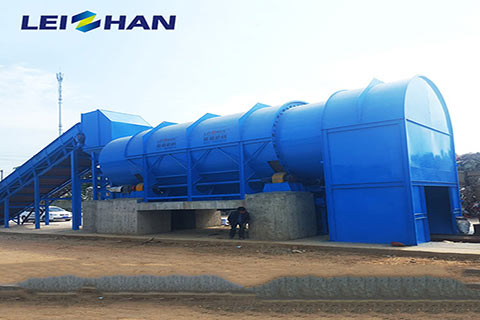 Bale breaking dry screening system is a complete system for removing light and heavy impurities under drying conditions by breaking packed compact waste paper into sheets, which is convenient for sorting and classifying waste paper. This system are mainly consist of two equipment: Chain Conveyor and Bale Breaker.
Chain Conveyor: It has changed the old way of breaking up waste paper with a fork lift truck. The waste paper on the conveying belt of the chain conveyor is sent to the bale breaker for dry screening. It acts as a feed throughout the system.
Bale Breaker: It's the main equipment in system. Various kinds of waste paper are broken in the machine body. The special internal cavity structure makes the waste paper package completely broken down in the process of rotation, and some light and heavy impurities can be discharged at the same time, such as glass, sand stone, wax block, gypsum, iron nail, candy, battery, asphalt block, etc.
There functions of Bale Breaking Dry Screening System:
1. Bale Breaking Function:
The packed paper bales are transported from the conveying plate to the feeding tank and the bale breaking dry screening system. Under the effect of the professional reliable mechanical structure, they are dispersed into sheets in a short time.
2. Screening and Discharging Function:
Small and light debris mixed in waste paper can be removed effectively from the professionally designed screen.
3. Sorting and Selecting Function:
Large pieces of light impurities, heavy debris and inferior waste paper and high-grade waste paper are distributed uniformly on the picking chain plate. Large chunks of light and heavy waste, waste paper that not conducive to pulping, as well as some high-grade waste paper are also picked out for more efficient use.
The system provided by Leizhan company has good business, environmental and social benefits. Welcome to contact us if you need any pulping or screening machine.
Email: leizhanpapermachine@gmail.com