Call us now:
+86 371 5512-9198
ZSK Series Self-Cleaning Vibrating Screen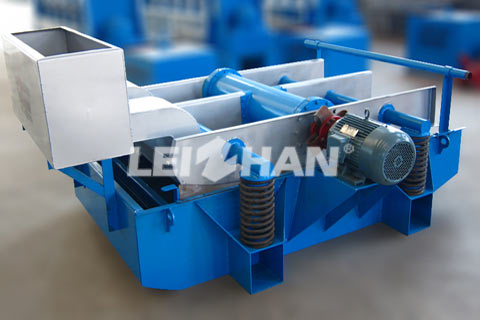 Leizhan Self-cleaning vibrating screen is developed by the reference of foreign equipment, the machine design is reasonable, screening capability is strong, with self-cleaning function, high efficiency, energy saving, low noise, easy maintenance.
The efficient China self-cleaning vibrating screen is mainly used for pulp tailing processing, with large filtering area, low power consumption and clean impurity.
Application & Features
1. Used for screening and removing various impurities in pulp suspension.
2. Specially designed air seal chamber makes self-cleaning ability of sieve plate very strong.
3.Perfect screening effect, stable running, low noise, easy maintenance.
Main Specification
Type
ZSK1
ZSK2
ZSK3
Area of Screen (m2)
1
2
3
Product Capacity of Hole screen (t/d)
7.5-25
12-50
25-75
Product Capacity of Gap Screen (t/d)
3.5-7.5
7-15
11-25
Input Pulp Concentration of Hole screen (%)
1.0-1.5
Input Pulp Concentration of  Gap Screen (%)
0.5-0.8
Motor power (Kw)
2.2
3
4
Work Principle
China ZSK series self-cleaning vibrating screen consists of cleaner body, vibration producer, dampener, stock chest, stock level controlling device and water jet device etc. And the cleaner body consists of screen frame, screen plate and gas seal room which is connected by bolt. The screen frame is located on 4 dampeners, and vibration producer is located on the heart of screen frame.
When the cleaner working, the stock runs to the bottom of gas seal room by stock level controlling device, and the screen body is vibrated under the affect of vibration producer, then the pressure pulse is formed. This cleaning method by pressure pulse can not only makes the screen plate more cleanly but decreases the load on the screen plate.
Download complete technical literature [PDF]