Call us now:
+86 371 5512-9198
2800mm Copy Paper Recycling Machine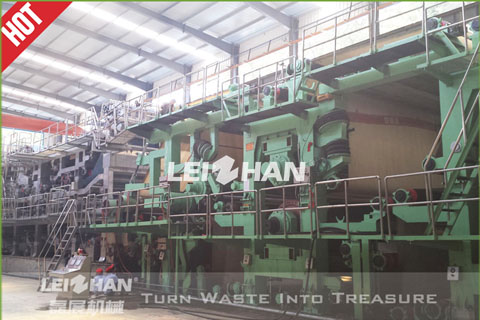 2800mm copy paper recycling machine adopt waste paper to produce various paper, includes copy paper, culture paper, writing paper, printing paper, etc.
Main Technical Parameters:
Production variety: printing paper, writing paper.
Quantitive range: 45-90g/㎡
Trimmed width: 1575-3800mm
Daily production: 5-50t/d
Working speed: 50-200m/min
Design speed: 220m/min
Pressure mode: pneumatic pressure
Track gauge: 2400-4900mm
Transmission mode: AC variable frequency, sectional drive.
Configuration Form of 2800mm Copy Paper Recycling Machine
Forming section: twin-mould, multi mould,  pressure mould former, single fourdrinier.
Pressing section: open press, vacuum press, composite press section includes three rolls and two presses.(i.e.: K press).
Drying section: consists of dual-cylinders or multi cylinders. The transmission mode includes open large gear and enclosed gear box transmission All types of sizers and calendars can also be equipped.
Complete section: all types of cylindrical winders and horizontal winders, etc.
Converting: all types of ordinary rewinders.
Leizhan provides various kinds of paper and pulp equipment. Feel free to contact us for more offer.
Email:flutingpapermachine@gmail.com