Call us now:
+86 371 5512-9198
2640mm Fluting Paper Machine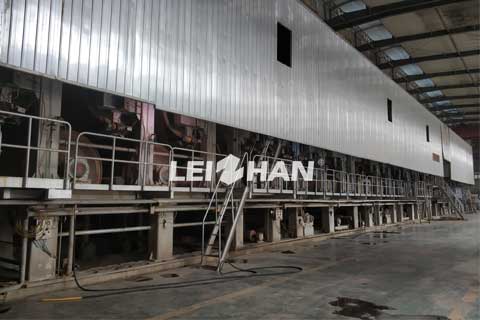 With the rapid development of modern life, corrugated paper has been playing an increasingly important role in our life. Corrugated paper can be used as the packaging for food, digital products and the decoration of different goods. Therefore, our company can provide can provide 2640mm fluting paper machine for your production.
2640mm fluting paper machine is mainly used for packaging of food or digital products with low cost, light quality, simple processing, high strength, good printing, convenient storage and so on.
Specific Data of 2640 Fluting Paper Machine:
Main product: High-strength Corrugated Paper
Raw Materials: Wood Pulp, Straw Pulp
Net Paper Width: 2640mm
Design Speed: 320m/min
Working Speed: 280-300m/min
Portioning Range: 90-105g/㎡
Net Wide: 2930mm
Track Gauge: 3300mm
Production Capacity: 90t/d
2640mm fluting paper machine is suitable for the excellent pulping and screening equipment. Leizhan has many years of production experience on a set of pulping and screening equipment. If you have interest to our machine, please contact us by email:leizhanpapermachine@gmail.com