Call us now:
+86 371 5512-9198
2640mm Coating Board Paper Machine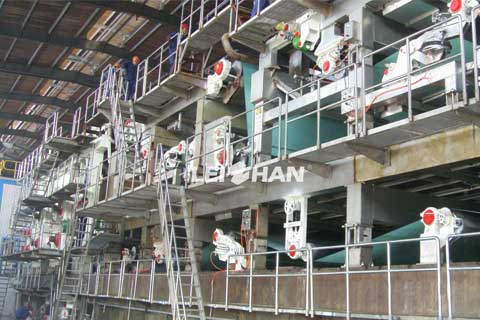 Leizhan is a professional manufacture for high quality paper and pulp making equipment. According to the production demand of advanced white board paper, the 2640mm coating board paper machine is composed of headbox, wire section, press section, drying section, coating section, reel section and so on.
The quality of printed matter has a lot to do with the printed materials. And the quality of printed materials are closely related with the coating base paper, paint and surface treatment. 2640mm coating board paper machine coordinate with the excellent pulping equipment can produce the coated paper with good optical properties and printing properties.
The Parameter of 2640mm Coating Board Paper Machine:
Main product: Grade A Coated Paper White Board Paper
Raw Materials: Wood Pulp, Office Waste Paper Deinking Pulp, OCC, ONP
Net Paper Width: 2640mm
Working Speed: 300~500m/min
Portioning Range: 40-120g/㎡
Production Capacity: 75~90 t/d
Net Wide: 3700mm
Transmission Way: AC Frequency Fractional Driving
Leizhan can also provide a set of excellent pulping and screening equipment for the production of 2640mm coating board paper machine. If you have interest to our machine, please contact us by email:flutingpapermachine@gmail.com