Call us now:
+86 371 5512-9198
Open Type Headbox for Fluting Paper Making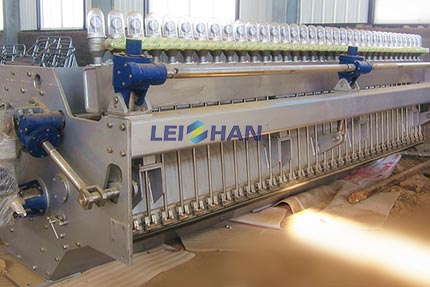 Open Type Headbox for Fluting Paper Making
Type: Open
Lip Width: 3650mm
The basic configuration is step diffusion pipe device, Orifice plate pulp spread device, double evener roll device, with upright lip margin lip-type pulp feeding device.
The headbox slurry contact with the surface are mirror-polished
Headbox structure for the long hole, easy to adjust.
Above the liquid level with stainless steel spray nozzle defoaming device.
Evener roll
Specifications: According to the actual calculation
Main structure: Double helix hole, Orifice chamfering, hole ratio
throat roller is 39%, weir roller is 50%
Nozzle Device
Main structure: The upper lip plate and the box body are connected with the joint structure.Upper lip plate with vertical lip and micrometer display of the banner trimming device to clean the lip of the lip from the lip.Upper lip plate horizontal adjustment range 0-50mm.
Box
Materials: Front wall panels, rear wall panels, runner panels, side wall panels: 304 stainless steel.
Main structure: box welding, with a visual pulp position indicator.
Leizhan provides various kinds of paper and pulp equipment. Welcome to contact us for more details.
Email:leizhanpapermachine@gmail.com