Call us now:
+86 371 5512-9198
Coarse Screen and Fine Screen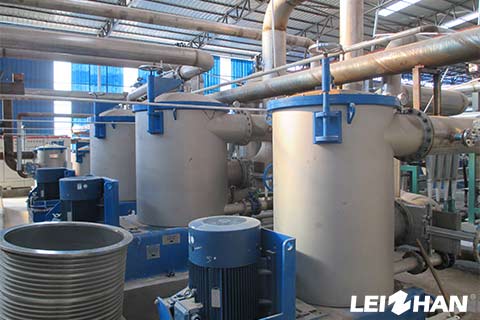 Last time we have talked about how M.C. pressure screen works, it's a excellent machine to screen slurry. The five holes and rigorous inner construction can separate fine stock, tailings and heavy impurities. Mid Consistency Pressure Screen can play a role in both coarse and fine screen, which are two important processes of cleaning and screening paper pulp.
Coarse Screen
Coarse screen apply to screening the slurry from High Density Cleaner. This step is also called the first stage mid-consistency coarse screen. The fine slurry is discharged to coarse screen pulp chest/agitator from stock outlet, and the tailings enter Light Impurity Separator and Reject Separator to be further cleaned. Then it enters coarse screen pulp chest/agitator and mixes with fine slurry from coarse screen.
Fine Screen
Fine screen is basically known as fractionating screen. It can screening the short fiber, which enter the Inclined Screen to be thickened. Mid and long fibers enter Low Density Cleaner and other M.C. Screen to be cleaned and sizing screened.
How to Differentiate Coarse and Fine Screen
Coarse screen basket usually is hole, while fine screen basket is small slot.
Coarse screen is equipped with a heavy impurities pipe, while fine screen doesn't need one.
Leizhan provides various kinds of paper and pulp machine, welcome to contact us for more details.
Email:leizhanpapermachine@gmail.com