Call us now:
+86 371 5512-9198
300T Corrugated Carton Box Production Line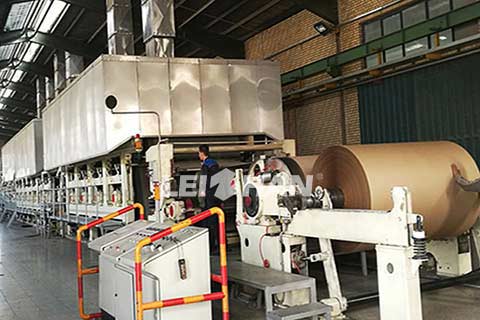 Corrugated carton box production line used waste paper to make high strength corrugated carton paper. Corrugated carton is mainly used for transport packaging with light weight, low cost, easy storage and transportation.
Corrugated carton box making machine consists of Headbox, fourdrinier wire section, Press section, Drying section, Sizing machine, Reeling section.
Corrugated Carton Box Production Line
Chain conveyor — Drum pulper — High density cleaner — Middle consistency coarse screen — Light impurity separator — Reject separator — Low density cleaner — Middle consistency fine screen — Double disc refiner
300T Corrugated Carton Box Making Machine
Paper type: corrugated paper, carton box, etc
Raw Material: Waste Paper
Trimmed Width: 4600mm
Basis Weight: 100-170g/m²
Design Speed: 400m/min
Operating Speed: 350m/min
Output capacity: 300T/D
Transmission power 228kw
Transmission mode: AC frequency conversion, branch transmission
Our company Leizhan is a professional manufacturer of pulp and paper making machine for 40 years. We can offer the whole paper making line, include paper pulping making line and paper machine. If you want to know more about our paper making equipment, you can contact us.
Email: leizhanpapermachine@gmail.com