Call us now:
+86 371 5512-9198
Inclined Screw Thickener In Paper Making Line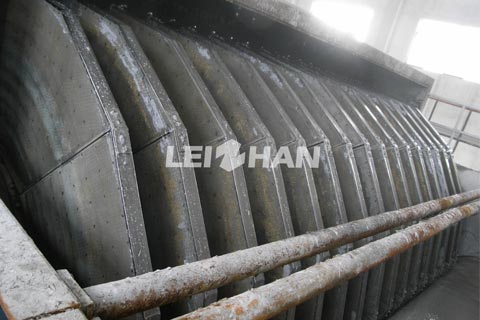 Inclined Screw Thickener is mainly used for washing and thickening all kinds of paper pulps, Here is work principle and main parameters of Inclined Screw Thickener.
The concentration of slurry is about 0.3%~0.7% after cleaning. Even under the condition of high concentration screening, the concentration of slurry can only reach about 2%. When such low concentration slurry is put into the slurry chest for storage, not only the volume and area of the slurry chest are large, but also the power consumption of slurry transportation and stirring is large, which will bring a lot of inconvenience to the next process. Therefore, the concentration of the selected slurry is often dehydrated so that the concentration of the slurry reaches the required range in the next stage of the process. When slurry is concentrated in the range of 3%~15%, the equipment based on the principle of filtration and dehydration is usually used. If the slurry is concentrated in the concentration range of 15%~40%, the extrusion equipment is often used. In the process of concentration, the white water discharged from the slurry should be reused as diluted slurry because it contains many fine fibers.
Main Parameters of Inclined Screw Thickener
Type: ZNX
Concentration of Input Pulp: 3-4%
Concentration of Output Pulp: 10-14%
Production Capacity:12-130t/d
Motor Power: 4-33 kw
Inclined Screw Thickener supplied by leizhan has good performance, advanced design, low price. If you need Inclined Screw Thickener, free to contact us for more details.
Email: leizhanpapermachine@gmail.com