Call us now:
+86 371 5512-9198
Stock Preparation System For Waste Paper Recycle Line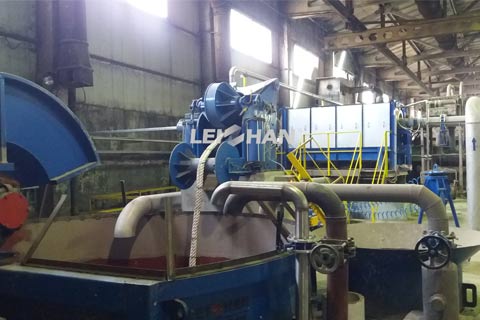 In the process of paper making, as we all know, includes two process, that is stock preparation and paper making. I would like to introduce you the stock preparation system in a detailed way. Here is our professional, technical service for paper industry technology text for pulp system.
In this Stock preparation system, Chain Conveyor, Φ10mm D Type Hydrapulper with110KW motor power, ZSC High Density Cleaner with 200KPa pressure difference, Mid Consistency Pressure Screen with 2.2mm screen basket hole size, Reject separator with 30KW, 1500rpm motor power, 1st stage Low Density Cleaner with 400L/min flow rate, Mid Consistency Fine Pressure Screen with0.25mm Screen basket hole size, NLS Inflow Pressure Screen with 0.35mm screen basket slot.
Through this pulp system, good pulp can reach the final process of paper making. The stock preparation system designed by leizhan can create good slurry for the following process, making good paper and bringing huge profit for paper mill.
Leizhan, with more than thirty years experience in making paper machine, we can supply you more advanced and nice machine with relatively cheap price. That is why our product can be sold home and abroad well. Besides, our professional engineer can design stock preparation and paper making line for your paper mill according production, trimmed width, raw material, etc.
Welcome to consult us for more details and quotation.
Email: leizhanpapermachine@gmail.com