Call us now:
+86 371 5512-9198
How to Deal With Papermaking Wastewater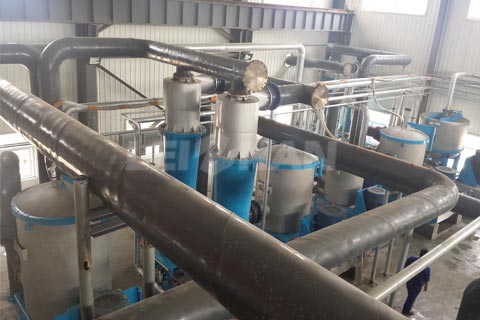 A lot of wastewater will be generated in a whole papermaking production line, how to deal with wastewater has always been a concern of everyone. The composition of pulp and paper wastewater is complex, and the treatment of each step is very important. We have three methods to treat the wastewater generated in papermaking, which are coagulation treatment method, adsorption treatment method, ecological treatment method.
Methods to Deal With Paper Making Wastewater
1. Coagulation treatment method: by adding a certain amount of flocculant to the effluent of the secondary sedimentation tank after biochemical treatment, the flocculant undergoes hydrolysis and polymerization reactions in the water, so that the pollutant particles in the water aggregate into large particle flocs, and then through sedimentation or The floc is separated by air flotation to realize the purification of water.
2. Adsorption treatment method: through the various chemical bonds formed by various active groups on the surface and the adsorbed substances, and through the intermolecular attraction between the adsorbent and the adsorbed substances, to achieve the purpose of selectively enriching various organic and inorganic pollutants so as to realize the process of wastewater purification.
3. Ecological treatment method: A method of purifying wastewater through the metabolic process of environmental organisms under natural conditions.
The composition of pulping and papermaking wastewater is complex and closely related to pulping raw materials and production processes. If you don't know how to implement, welcome to contact us for more details. Email address: leizhanpapermachine@gmail.com.